.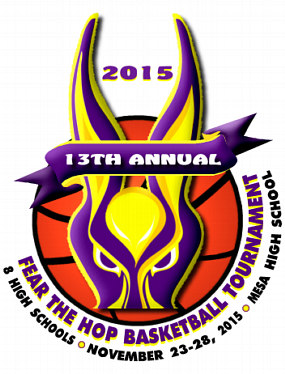 LET'S Go TO THE HOP! - Congratulations to Glendale Mountain Ridge Mountain Lions for Winning The Mesa High School Fear the Hop Tourney. BRACKETS
MESA HOPS TO THIRD PLACE FINISH! - Mesa High defeated Saguaro (61-51) to capture third place in the annual Fear the Hop tournament,



Follow us on TWITTER

JACKRABBITS EARLY #3 - The 2015-16 high school basketball preseason rankings from Richard Obert

Division I

No. 1 Tempe Corona del Sol (33-1): The Aztecs will go back to the small-ball version of its 2012-13 state championship team.

No. 2 Phoenix St. Mary's (18-13): Sophomore big man KJ Hymes ready to show the state how much his game has grown.

No. 3 Mesa (26-5): An even deeper team than last year's 26-win team that reached the quarterfinals.

No. 4 Gilbert Highland (12-15): Should make huge turnaround with four returning starters, led by 6-9 senior Tim Fuller.

No. 5 Chandler Basha (19-10): Lost 6-10 Klay Stall to a knee injury but welcomes back 6-10 Devin Kirby from two knee injuries.

.


COACH BURCAR PREPARING FOR THE 2015-16 SEASON - The 2014-15 season rosters, results, recaps and photos have been archived and we are preparing for the upcoming season. Highlights for 2015-16 include the annual Fear the Hop Tournament, participation in the McClintock Shootout during the Christmas break and an opening game against defending state champions Corona del Sol. Check back for updates as the season nears. 2014-15 ARCHIVES


MESA HIGH ALUMNI WHO HAVE GONE ON TO THE NEXT LEVEL - Jackrabbit tradition is rich with All-State players, Player of the Year winners and those that have gone on to excel at the next level, including some that have played in professional leagues around the world. They include David Van Dyke, Lee Cummard, Aaron Fuller, Graham Hatch, Donte Medder, Michael Crowell and Hakeem Rollins. Read about these former Jackrabbits on the ALUMNI page.

MESA BASKETBALL RECORDS - Check out the individual game, individual season and individual career records on the RECORDS page.

Mesa TOP ALL TIME PLAYERS- Richard Obert, azcentral sports
Mesa High has as rich a football history as any high school in Arizona. Boys basketball was good in the school's early years. But it really picked up in the 1980s under coach Paul Newendyke, and hasn't stopped rolling under Shawn Lynch in the early 2000s and now with Shane Burcar in charge.

It is easy to find 10 players but extremely tough to pick a No. 1. Any of the top three players can make a case for being the best basketball player in school history. Here are my top all-time Mesa High boys basketball players. STORY