.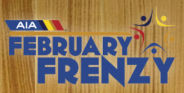 JACKRABBITS FALL IN STATE TOURNAMENT BY A SCORE OF 56-40 - The No. 7 Thunder nearly lost a 15-2 lead amassed in the first period, but pulled together midway through the second period and beyond to top the No. 2 Jackrabbits at Wells Fargo Arena.

Brandon Clarke led Desert Vista with 16 points, 10 in the second half and six in a row in a final-quarter stretch that blunted Mesa's final hope of a comeback. Tarik Cool added 12 points and David Powell nine for the Thunder.

Mesa (26-5) got a team-high 12 points off the bench from Kale Abbott. Abbott made four threes for all his points. Drew Hatch had eight points and Darius Godeau chipped in seven. Mesa never led, but cut a 15-2 deficit to 17-15 with six minutes left in the second quarter. STATE BRACKET


Follow us on TWITTER



GAME DAY GALLERY - See game day action photos courtesy of photography by Marc Washburn. GALLERY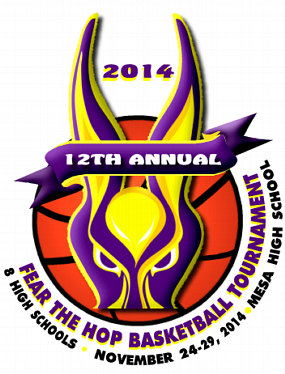 JACKRABBITS TAKE FEAR CHAMPIONSHIP - Mesa defeated Red Mountain in the finals of the Fear the Hop Holiday Tournament. The final score was 53-41. Thanks and congratulations to all teams that participated.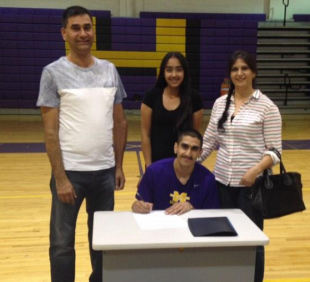 CONGRATULATIONS TO SUMEET - Senior Sumeet Khara joined the long list of Mesa players who moved onto the next level. Sumeet took part in Early Letter of Intent Day and will will be headed to Colorado School of Mines to play basketball.


MESA HIGH ALUMNI WHO HAVE GONE ON TO THE NEXT LEVEL - Jackrabbit tradition is rich with All-State players, Player of the Year winners and those that have gone on to excel at the next level, including some that have played in professional leagues around the world. They include David Van Dyke, Lee Cummard, Aaron Fuller, Graham Hatch, Donte Medder, Michael Crowell and Hakeem Rollins. Read about these former Jackrabbits on the ALUMNI page.

.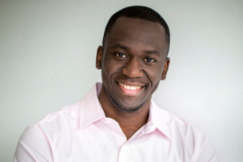 WHERE ARE THEY NOW - FORMER JACKRABBIT BLONDY BARUTI - After what was described as a worldwide search, ABC has cast Blondy Baruti, a 6-foot-10 former basketball player from Mesa High, as the lead opposite Skylar Astin in its untitled NBA buddy comedy pilot. It's executive produced by Galavant creator Dan Fogelman, Mandalay Sports Media's Peter Guber & Mike Tollin and Kapital Entertainment's Aaron Kaplan. Also cast in the pilot, which is being done with the cooperation of the NBA and the the Guber-co-owned Golden State Warriors, is Laura Steinel (Draft Day). STORY


UPDATE (02/14/15) - JACKRABBITS WIN SUPER SECTIONAL - DEFEAT RIVAL MESA MOUNTAIN VIEW 59-44.
MESA REACHES Division I Super Sectional I FINALS - 1/13/15 - Mesa junior forward Darius Goudeau is only 6-foot-3, but given how coach Shane Burcar describes Goudeau's style of play, it's as if teams are dealing with King Kong.

"He's 6-foot-3 with the heart of a 7-8 guy," Burcar said.

Goudeau had 23 points and 18 rebounds, resembling the tenacious player who began the season, in Mesa's 68-52 Division I Super Sectional I semifinal victory over Anthem Boulder Creek on Friday night at Phoenix Sandra Day O'Connor.

Goudeau started the season great, doing the little and big things that led Mesa to a 10-0 start.

He suffered an ankle injury two weeks ago that slowed him down. But he is back to pounding the glass and asserting himself inside for layups and put-backs.

During a key stretch in the final quarter after Boulder Creek (17-11) cut it to 39-36, Goudeau took over with a steal, a layup, a couple of rebounds, a three-point play, and Mesa (22-4) was back in control, leading by 12 with four minutes left.

"I was like this in the beginning of the season," Goudeau said. "My teammates helped me a lot."

Mesa locked up Boulder Creek's good 3-point shooters down the stretch. David Cummard and Cam Washburn both defended well, making it less comfortable for Nick Johnson, Justin Braun and Matt Downey — all lethal shooters — on the perimeter.

"We just struggled to do some of the little things tonight," Boulder Creek coach Ryne Holstrom said. "That's what's good about the Super Sectionals. It allows you to fine-tune before state. We know exactly what we need to do next week."

Boulder Creek qualified after its win over Phoenix Pinnacle on Wednesday.

The win gives Mesa no less than a four seed and a first-round bye with the home court in next week's Division I 24-team tournament.

Mesa plays Mesa Mountain View for the Super Sectional championship on Saturday night.

"That's huge for us," Burcar said. "You look at the 24, 25, 26 teams right now. Every game is going to be a fist fight. You want the highest seed you can possibly have."

D-I Super Sectional Tournament Qualifying:
Division I Super Sectional Tournament (8 team bracket): In order to qualify, a school must have scheduled a minimum of 14 games. Based on section standings, the top four (4) teams in each section will earn an automatic bid to the super sectional tournament.
In the initial round, the top team in each section will play the No. 4 team in the opposing section and the No. 2 team in each section will play the No. 3 team in the opposing section. The super sectional tournament will consist of three rounds and be single elimination. The rankings will continue to update throughout the super sectional tournaments.

MESA BASKETBALL RECORDS - Check out the individual game, individual season and individual career records on the RECORDS page.