.
JACKRABBITS LOSE in FEBRUARY FRENZY- The Jackrabbits lost their opening game in the state tournament to Deer Valley by a score of 69-62. RECAP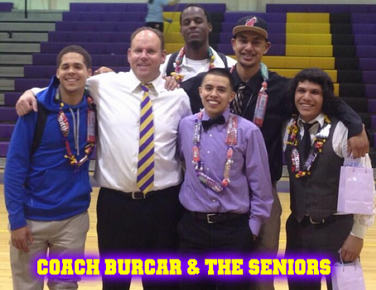 2014 SENIOR NIGHT
UPDATE - 02/07/14 - MESA DEFEATS HORIZON - The Jackrabbits beat Horizon 49-35 on Friday and ended the regular season with a 17-9 record. Onto the State tourney!


UPDATE - 01/20/14 - PINNACLE TOPS MESA WITH A BUZZER BEATER- Pinnacle's Trey Ingram hits a jumper with 1.1 sec left in the MLK Basketball Classic in a 60-58 win over Mesa High. RECAP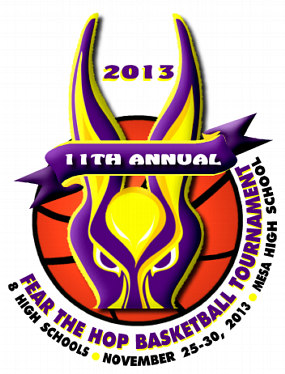 HAMILTON TAKES FEAR CROWN - MESA FINISHES 3RD BRACKETS

MESA RANKED IN PRE SEASON TOP 10 - DIVISION I
By Richard Obert azcentral sports

1. Tempe Corona del Sol: This could be coach Sammy Duane Jr.'s best perimeter shooting team and that's a scary thought knowing how well the Aztecs shot their way to the past two state championships.

2. Phoenix Pinnacle: This becomes Dorian Pickens' team with the departure of four-year starting guard Drew Bender. Pickens has a strong supporting cast, including transfers Cameron Gilbert (Prescott) and Rojhae Colbert (Phoenix North).

3. Laveen Cesar Chavez: Another fast, deep team, led by improved All-Arizona forward Pablo Rivas, who averaged 20 points and 10 rebounds on last year's final four team.

4. Mesa Mountain View: Big man Payton Dastrup returns, this time with much more guard help, led by Andy Sessions, who transferred in from rival Mesa Red Mountain.

5. Gilbert: Usually a sleeper team to start season, this team is on everybody's radar with the return of 6-foot-8 center Truman Moore, point guard Anthony Bryant and wing Spencer Nicolds.

6. Scottsdale Desert Mountain: The Wolves will miss rugged post player Mark Andrews, who isn't playing this season. But new coach Kurt Keener will increase the tempo to warp speed with All-Arizona point guard Rolando Rhymes back from a final four team.

7. Scottsdale Chaparral: The Firebirds could get a big inside boost if football player Trevor Wood plays. For now, they'll be guard heavy with the return of Brandon Hoffer and Kenzo Nudo.

8. Mesa: Savvy team with guards Christian Harris returning, along with 6-11 center Isaac Allen and 6-6 forward Felipe Velazco.

9. Phoenix Sunnyslope: The Vikings have moved up a division, but with 6-9 forward Michael Humphrey back, along with guard Navareio Holmes, they can play with anybody.

10. Gilbert Highland: The Hawks figure to be in the mix with guard Jake Toolson, a BYU commit, among the state's top players.

.


MEET THE 2013-14 JACKRABBITS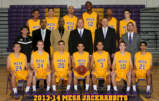 ROSTER/PHOTO

TWo JACKRABBITS LISTED ON STATE'S TOP 50 FOR 2014 SEASON
Arizona's top 50 high school boys basketball players in 2014 class - By Richard Obert azcentral sports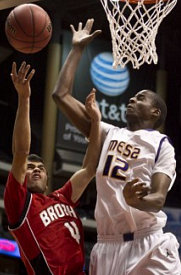 Isaac Allen Mesa, C, 6'10"
RANK #17 - Made major strides last season as an intimidating presence at both ends of the court. He is just now starting to tap his potential as an enforcer.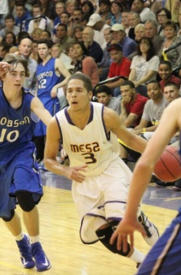 Christian Harris Mesa, G, 5'11
RANK #38 - Smart, strong playmaker who is a solid outside shooter. Not afraid to take the ball to the basket. Not a true point guard, but he is developing. Competition against strong point guard in national showcases elevate his game.

Tribune's top boys hoops prospects in 2014
By Kyle Odegard, Tribune
Isaac Allen, C, Mesa

Credentials: Honorable mention All-Tribune as a junior; averaged 8.4 points, 7.4 rebounds, 2.9 blocks per game

Scholarship offer: Northern Arizona.

Verbal commitment: None.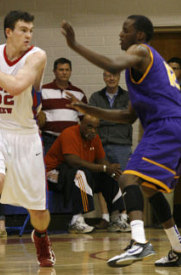 Outlook: Allen probably has the largest unfulfilled upside among East Valley players. He is already an impressive shot-blocker, and at 6-foot-10 has the height colleges crave. His offensive game is still raw, but Allen has started to get more consistent with a nice jump hook. His biggest attribute is his defense in the lane, although Allen needs to gain more strength to avoid getting moved around by stronger post players. Allen has good length and maneuverability, which is always intriguing to college coaches. If he can string together an impressive next few weeks, he has the chance to really improve his stock and receive more scholarship offers.


MESA HIGH ALUMNI WHO HAVE GONE ON TO THE NEXT LEVEL - Jackrabbit tradition is rich with All-State players, Player of the Year winners and those that have gone on to excel at the next level, including some that have played in professional leagues around the world. They include David Van Dyke, Lee Cummard, Aaron Fuller, Graham Hatch, Donte Medder, Michael Crowell and Hakeem Rollins. Read about these former Jackrabbits on the ALUMNI page.

MESA BASKETBALL RECORDS - Check out the individual game, individual season and individual career records on the RECORDS page.

VISIT MESA JACKRABBIT FOOTBALL